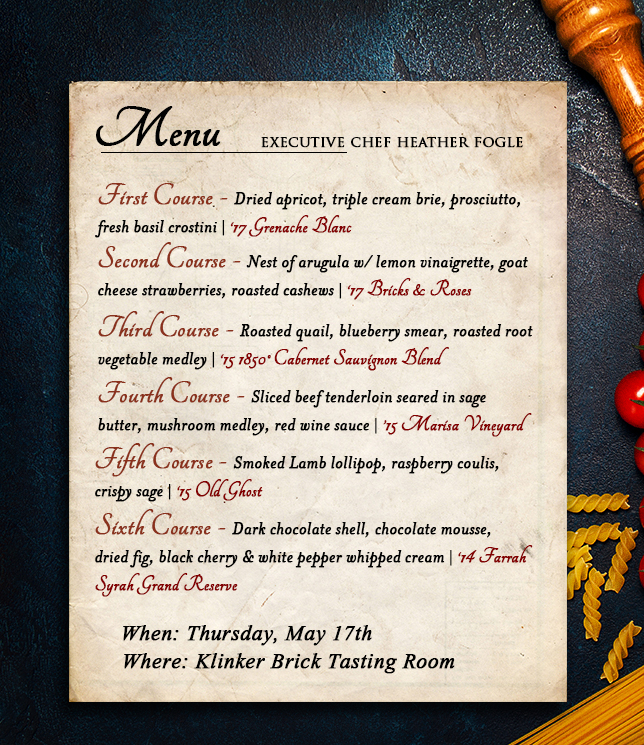 ---
Join us in celebration of Zinfest for an evening of Klinker Brick wines paired with a delicious six-course meal by Chef Heather Fogle. We'll also be sampling an upcoming vintage from the barrel as well as aged vintages from the cellar.
Doors open at 6pm
Dinner is served at 7pm.
About Heather Fogle:
Heather Lea is one of the Central Valley's premiere personal chefs. In 2004, she founded Elle's Custom Catering (named after her daughter Elle), specializing in intimate dinners and nutritious family meals for busy professionals on the go. Since then, she's expanded into events ranging from weddings to corporate luncheons and elegant dinner parties. Elle's specializes in "keeping it fresh," creating menus that feature seasonal produce and local products that showcase the Valley's rich agricultural heritage.
"I like to add a personal touch to all of my events by meeting with each client and getting to know them and their tastes. The personal touch helps me to get the "feel" of their event and allows me to create a custom menu just for them."
For Heather, art truly imitates life, she doesn't just cook professionally, she loves to entertain at home, hosting elegant dinner parties for close friends and family. Despite the rigors of running a thriving business, she is also a full time mother and home maker, who loves nothing more than spending time with her two children.
Have a question? Email events@klinkerbrick.com or call 209.333.1845
See you there!